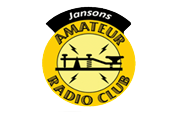 "Ideas come from individual's knowledge, and organizations take shape from teams-who share ideas."
About JIT-Amateur Radio Club:
Amateur Radio is the wonderful hobby of experimentation and fun in the area of electronic communication.   Almost every Government around the world has allocated frequencies for Radio Amateurs to use.    Amateurs are very, very skilled in operating in tough communicating conditions. Radio amateurs, often called "hams," enjoy radio technology as a hobby. But it's also a service –a vital service that has saved lives when regular communication systems failed.  We at JIT-Amateur Radio Club train students to learn Morse code which is the basic building block to become a Ham Radio Engineer or Operators and to serve the society and country in their needs.
Motto:
"When all else fails…    …Amateur Radio works!"
Vision:
Encouragement and improvement of the amateur service through hands on training which provide for advancing skills in both the communications and technical phases of the art of communicating.
Mission:
To meet socially so as to advance the skills of Amateur Radio operators in preparation of applying technical and communications expertise for the good of our community.