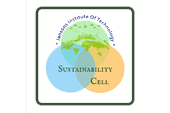 About Sustainability Cell
Sustainable development is the need of the present not only for the survival of mankind but also for its future protection and development. Today we are in urgent need of "Sustainable Revolution" to save the environment from various pollution related activities and handover the valuable natural resources to the future generation.
We have one planet and we should ensure that it's protected by combining our modern ways of living with a deeper respect and understanding of what nature provides. At Jansons Institute of Technology, we practiced best practices for the sustainable development and provide utmost care to green development, solid waste management, recycling of used water for gardening activities, rain water harvesting and technology implementation to achieve the clean, green and smart campus.
The students should be ambassadors of cleanliness, something they should also make part of their life culture. The message of cleanliness should be spread in the society, families through student's community to make this cleanliness drive as big revolution.
Best practices followed in environment and sustainability issues in JIT campus are
Oxygen rich environment by more trees
Rain water harvesting plant
Waste water treatment plant
Solid waste management
Smart campus – Smart technologies includes e-learning tools, JIT Moodle, JIT cloud, JIT student corner, JIT forms and JIT tube has been encouraged and utilized by both the students and faculty members to share the knowledge in easy and smart way.