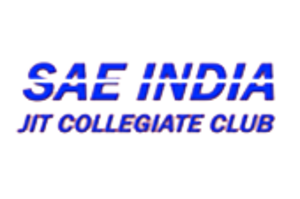 About SAE JIT Collegiate Club:
The department of Mechanical Engineering established SAE JIT Collegiate Club at our college premises for the benefit of the student's on 22-09-2012.  Jansons Institute of Technology belongs to SAEISS (SAE India Southern Section) and college club is named as SAE India JIT Collegiate Club (SAE INDIA JIT CC)
SAE (Society of Automotive Engineers) International is a professional association and standards organization for engineering professionals concentrating primarily emphasis automotive and aerospace Industry. SAE International has more than 138,000 members globally from all engineering disciplines. SAE coordinates the development of standards and best practices for its primary emphasis Industries. Apart from standardization efforts SAE concentrates on Professional Certification and collegiate Design Competitions.
Motto:
The Ultimate source for Mobility Engineering
Vision:
To continuously enrich knowledge base of practitioners in mobility industry and institution in the service of Humanity. 
Mission:
To enhance the knowledgebase of the members who are mobility practitioners in India
To provide to its members access to SAEINDIA's programs and services globally enabling them to practice world class standards in productivity and quality.
To develop technical and scientific reports for the benefit of mankind.
To provide a forum for members to informally exchange ideas and views.