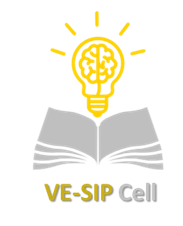 About VE-SIP Cell and its Purpose
Value Education is the process of self-exploration and self-investigation on one's own right, where one is able to discover the values within. In this process, the teacher is a facilitator and co-explorer with the students. Value Education helps to understand the need, concept, and content of value-education in an individual's life and modifies their aspirations for happiness & prosperity by,
·      Sensitization of student towards self, family (relationship), society, and nature.
·      Strengthening of self-reflection.
·      Development of commitment and courage to act.
The Student Induction Program(SIP) is to prepare newly admitted undergraduate students for the new stage in their life by facilitating a smooth transition from their home and school environment into the college environment through various discussions and activities. The induction program provides,
·      Exposure to a holistic vision of life
·      Learning creative skills in arts to express the larger vision of life
·      Healthy lifestyle and ethical professional discipline
·      Overcoming weaknesses in some essential professional skills (only for those who need it)
Functions of VE-SIP Cell
·      Train faculty members on Universal Human Values(UHV) in the ratio of 1520 (1 faculty per 20 newly admitted students).
·      Conduct FDP on topics of UHV.
·      Planning, and then actively and successfully implementing the Student Induction Program (SIP).