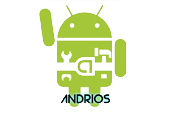 About ANDRIOS:
Android is a mobile operating system (OS) currently developed by Google, based on the Linux kernel and designed primarily for touchscreen mobile devices such as smartphones and tablets. Android's user interface is mainly based on direct manipulation, using touch gestures that loosely correspond to real-world actions, such as swiping, tapping and pinching, to manipulate on-screen objects, along with a virtual keyboard for text input. In addition to touchscreen devices, Google has further developed Android TV for televisions, Android Auto for cars and Android Wear for wrist watches, each with a specialized user interface.
JIT AndriOS club has been initiated for the students who are dynamic and ambitious and who wish to take the field of Android technology to a higher pedestal. The Club AndriOS helps members to Learn & Innovate their own product.
Motto:
Deliver an ideal app that will help community in achieving the targeted objective
Vision:
To look out on the automated fields of daily life and have always tried to automate them by integrating with newer and innovative ideas.
Mission:
To educate the members of AndriOS in developing applications using Android and iOS technology with development tools, and to give them a strong base in Application development.