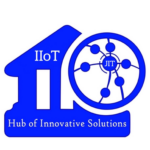 About JIT-IIoT CLUB:
IIoT stands for the Industrial Internet of Things that mainly referred to an industrial framework whereby a large number of interconnected sensors, instruments, and other devices networked together with computers' industrial applications and synchronized through the use of software tools and technologies. Students can able to be in tact with the ever-changing market demands for developing their skillset.
Young engineers may learn how to experiment, develop, and create their own devices with the guidance from IIoT Club. The Club believes that, learning is a continuous process in one's life but an individual's learning should not be constrained within boundaries but should be spread and shared. Here in IIoT Club, we sternly believe that we learn, practice, share and in the process we prosper.
Vision:
IIoT Club helps young engineers how to tinker with, build and create gadgets of their own.
IIoT Club promotes an individual's learning to be spread and shared across the sphere who will be the change agents in the technological field.
Mission:
IIoT club is an initiative towards imparting knowledge to the students regarding the network of intelligent devices, digital twin technology and various distributed computing framework for the development of distributed applications in multidisciplinary streams.
To transform students through a systematic teaching-learning process, providing skill development training, practical exposure during their period of club activities.
Outcome:
IIoT club enriches the students to gain knowledge, skills and experience in leadership, communication, Innovative problem-solving, group development, management, finance, presentation, public speaking and also to experiment with areas of expertise.
Club activities help students develop sense of unity and teamwork, learning how to work with others in reaching the same goals. IIoT Club enable students to meet, mix, and collaborate with other students from different backgrounds in a different environment. They are pushed outside of their comfort zone and encouraged to socialise with people.
IIoT club encourages and motivates the students to participate in Co-curricular activities like Hackathons, Ideathons, Pitching events and Conference presentations.