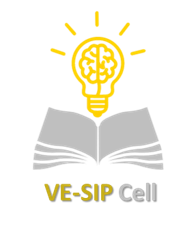 "Fostering Creativity & Innovation in Technology"
VE-SIP cell & IIC JIT of Jansons Institute of Technology associated with AICTE Gokaraju Rangaraju Institute of Engineering & Technology under AICTE Distinguished Chair Professor Scheme in conducting a webinar, "Fostering Creativity & Innovation in Technology" on 18.11.2022 from 10.15 to 12.15 p.m. at Sivaganga Auditorium. Ms. Dhakshanya of CSE welcomed the gathering & contributed an introduction to the guest speaker. The speaker Prof. Ashok Mishra, NASI Distinguished Professor, IISc Bengaluru initiated his talk by stressing the importance of innovation. He discussed on how to create National Manufacturing & Design capabilities in Critical technologies & sectors.
The speaker highlighted on how AtmaNirbhar in Defence leads to technology self-sufficiency in frontier technologies. Students were enlightened on IPR policy that has to be formulated and practised. The speaker emphasized that creativity and innovations lead to the development of new ideas worthy of commercialisation. The speaker advised that a potential entrepreneur requires passion, self-belief, discipline and perseverance. A feedback was collected from students to ensure the effectiveness & reach of the program.